Source: by Gerson Freitas Jr for Bloomberg | May 30, 2019
Brazilian chicken producer BRF SA is in talks to take over beef heavyweight Marfrig Global Foods SA, potentially creating the fourth-largest meat company in the world by sales amid a rally in global protein stocks.
The Sao Paulo-based firms said in separate filings Thursday that they agreed to "deepen discussions" on a combination to gain further scale and increase geographical and product diversification, with operations spanning South America, the U.S. and the Middle East.
For shareholders of BRF, which would have an 85% stake in the resulting company, the takeover in an all-stock deal could mean a reduced debt burden and more financial muscle to seize opportunities at a time when the spread of a deadly pig disease in Asia boosts the outlook for protein export demand. They would also grab a piece of global beef supplies through Marfrig's operations in South America and the U.S.
In return, shareholders of Marfrig could benefit from higher exposure to a business with typically wider margins than beef. BRF is Brazil's largest processed-food maker, having the nation's most value-added brands of everything from luxury ham to frozen lasagna. Marcos Molina, who founded Marfrig and controls the company with a 36% interest, would still be one of the largest shareholders at the resulting business.
Agribusiness and protein producers have been adjusting their businesses to cope with supply gluts and low prices and, in the past year, a trade war between the U.S. and China that has disrupted flows and increased geographical risks.
BRF in particular has also been trying to recover from a series of setbacks including a food-safety scandal and an European ban on its shipments. The problems led the company to post a record loss last year.
Sao Paulo-based Marfrig, which has for years struggled with high debt levels and poor results, last year became the world's second-biggest beef producerafter acquiring Kansas City-based National Beef Packing Co. while selling chicken-nugget maker Keystone Foods LLC's operations to Tyson Foods Inc.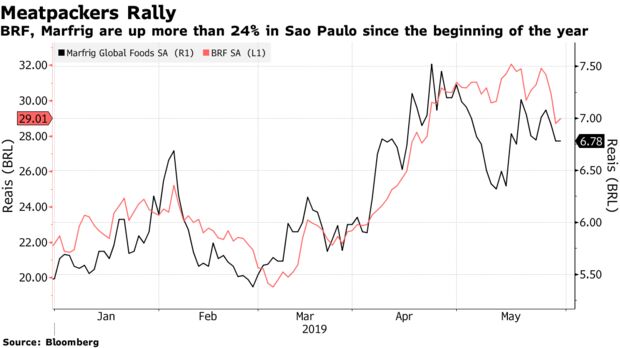 Brazilian meat companies have been surging as African swine fever continues its spread across China. The biggest hog producer and consumer is projected to lose 10% of its pork production this year due to the disease, according to the U.S. Department of Agriculture. Meat prices and trade volumes — whether it's chicken, beef, seafood or even plant-based alternatives — are likely to rise as a result, boosting revenues of major suppliers.
"The move is surprising in a moment where the protein market is a hot topic," said Werner Roger, a founding partner at asset manager Trigono Capital. It can compliment the business of both companies "but it's still unclear how much they will gain in synergies and how both cultures and leaderships will combine. I wouldn't hold my breath."
After shares in BRF and Marfrig tumbled last year, they have rallied 32% and 24%, respectively, this year in an industry-wide recovery fueled by the spread of African swine fever in Asia.
Still, the two companies have been left behind by larger Brazilian rival JBS SA, which is up more than 90% this year. Marfrig remains one of the cheapest major meat companies, trading at 9.25 times estimated earnings. BRF is among the most expensive with a ratio of 31.
BRF is the more valuable of the two at $5.95 billion, compared with Marfrig's $1.06 billion. The combination would still be overshadowed by $15 billion JBS.
While there's no defined structure for the combined businesses, the deal would be based on the average market value of each company over the last 45 days, taking into account volume of share trading, BRF said. That would result in a split of 85% for BRF shareholders and 15% for Marfrig — which could change as the talks evolve, according to the company.
The MOU sets an exclusivity period of 90 days, which can be extended by another 30 days.
"Both of the companies can potentially benefit from an event like this as they try to improve their margins further," said Ian McCall, who advises on $190 million in emerging-market assets at First Geneva Capital Partners. "The devil as they say is on the details."
— With assistance by Julia Leite, and Vinicius Andrade